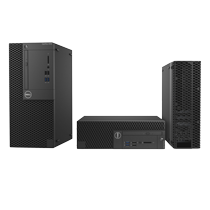 OptiPlex has 25 years of experience serving our commercial customer needs and is designed with the understanding reliability. Industrial-grade desktop with an ultra-long lifecycle and expandability options, featuring enterprise-class performance and management capabilities. Dell OptiPlex Supports a rich SSD and hard drive options, as well as next generation AMD or NVIDIA dual graphics for those who crave a better visual experience. A minimum three-and-a-half-year purchase lifecycle eases management and planning. Dell OptiPlex is Durability where it matters most, from healthcare, retail, to the manufacturing floor, the XE3 is built to power industries, even in the most challenging physical conditions.
Micros
OptiPlex micros save space with the smallest chassis design. With a choice of mounting options, they are easy to secure and adapt to your workspace. These small machines pack a powerful punch thanks to 8th gen Intel(r) Core(tm) Processors.
Small form factors and towers
OptiPlex small form factors and towers are built to fit your environment. We've crafted them with the power of 8th gen Intel(r) Core(tm) Processors in space-saving designs, so you get maximum performance from a form factor that best fits your workspace.
All-in-Ones
The new OptiPlex all-in-ones pack the high performance you demand into an ultra-sleek design. Equipped with an optional 4K Ultra HD display, you'll experience sharper, more detailed visuals in each of your projects. Plus, these desktops are easy to setup and upgrade thanks to a tool less design that delivers more uptime for employees and IT.